MikroTik Cloud Core Router CCR1036-12G-4S

Carrier grade router with a cutting edge 36 core Tilera CPU, four SFP ports and twelve Gigabit Ethernet ports

MikroTik Products
MikroTik Ethernet Routers
MikroTik Cloud Core Router CCR1036-12G-4S
1U rackmount, 12x Gigabit Ethernet, 4x SFP cages, LCD 36 cores x 1.2GHz CPU, 4GB RAM, 24 mpps fastpath, Up to 16Gbit/s throughput, RouterOS L6
#CCR1036-12G-4S
Our Price: $999.00
Click here to jump to more pricing!
Overview:
1U rackmount case
12x Gigabit ports
4x SFP ports
Color touchscreen LCD
Ports directly connected to CPU
36 core CPU
1.2GHz clock per core
12 Mbytes total on-chip cache
State of the art TILE GX architecture
8 mpps standard forwarding
24 mpps fastpath forwarding (wire speed for all ports)
Up to16Gbit/s throughput
CCR1036-12G-4S is an carrier grade router with a cutting edge 36 core Tilera CPU! Unprecedented power and unbeatable performance - this is our new flagship device. Over 20 times faster than our previous top model, the Cloud Core supports throughput of up to 24 million packets per second, or up to 16 gigabits - full wire speed.
The device comes in a 1U rackmount case, has four SFP ports, twelve Gigabit ethernet ports, serial console and a USB port. A color touchscreen displays device status, traffic graphs, or provide access to simple configuration options.
It has two SODIMM slots, by default it is shipped with 4GB of RAM, but has no memory limit in RouterOS, so will accept and utilize 16GB or more. It comes with power supply and 1U rackmount case.
The cloud core router is powered by RouterOS, a fully featured routing operating system which has been continuously improved for fifteen years. Dynamic routing, hotspot, firewall, MPLS, VPN, advanced quality of service, load balancing and bonding, real-time configuration and monitoring - just a few of the vast number of features supported by RouterOS.
Tested and recommended to use with MikroTik SFP modules: S-85DLC05D, S-31DLC20D and S-35/53LC20D (not included)
Block Diagram: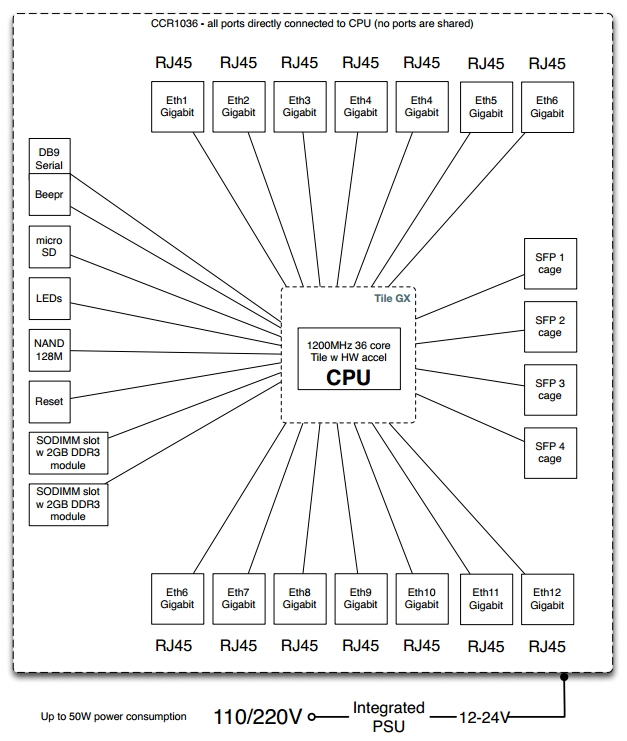 Specifications:
Feature / Model
CCR1036-12G-4S
CCR1036-12G-4S-EM
CPU
Tilera Tile-Gx36 CPU (36-cores, 1.2Ghz per core)
Memory
Two SODIMM DDR3 slots, 2x 2GB DDR3 10600 modules installed
Two SODIMM DDR3 slots, 2x 8GB DDR3 10600 modules installed (16GB total)
Ethernet
Twelve 10/100/1000 Mbit/s Gigabit Ethernet with Auto-MDI/X
SFP
Four 1.25G Ethernet SFP cage (Mini-GBIC; SFP module not included)
Expansion
microUSB port, host and device mode
Storage
1GB Onboard NAND
Serial port
One DB9 RS232C asynchronous serial port
Extras
Reset switch; speed controlled fan; beeper; voltage, current and temperature monitoring
Power options
IEC C14 standard connector 110/220V (PSU included), up to 60W power consumption
Board dimensions
355 x 145 x 55mm
Temperature
Max ambient temperature 50° @ 1.2GHz; 70° @ 1GHz CPU core frequency
Operating System
MikroTik RouterOS v6 (64bit), Level 6 license
Box contains

Router in a 1U case with LCD
PSU
Power cable
USB cable
Included parts
| | |
| --- | --- |
| IEC cord | USB OTG cable |
Performance Test Results:
Performance Test Results
CCR1036-12G-4S (1200Mhz)
All port test
RouterOS
Model
Configuration
64 byte
512 byte
1518 byte
kpps
Mbps
kpps
Mbps
kpps
Mbps
Bridging
none (fast path)
23,808.0
15,618.0
3,759.0
15,938.2
1,299.1
15,963.3
Bridging
25 bridge filter rules
5,857.2
3,842.3
3,759.0
15,938.2
1,299.1
15,963.3
Routing
none (fast path)
23,808.0
15,618.0
3,759.0
15,938.2
1,299.1
15,963.3
Routing
25 simple queues
7,078.8
4,643.7
3,759.0
15,938.2
1,299.1
15,963.3
Routing
25 ip filter rules
2,485.4
1,630.4
2,315.3
9,816.9
1,299.1
15,963.3
Pricing and product availability subject to change without notice.
MikroTik Products
MikroTik Ethernet Routers
MikroTik Cloud Core Router CCR1036-12G-4S
1U rackmount, 12x Gigabit Ethernet, 4x SFP cages, LCD 36 cores x 1.2GHz CPU, 4GB RAM, 24 mpps fastpath, Up to 16Gbit/s throughput, RouterOS L6
#CCR1036-12G-4S
Our Price: $999.00