MikroTik R52H

Wireless 802.11a+b+g miniPCI card for multiband high speed applications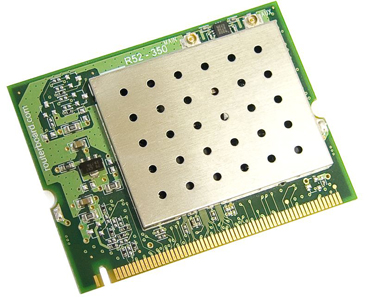 MikroTik Products
MikroTik Interfaces
MikroTik R52H 2.4/5Ghz miniPCI 802.11a/b/g single chain, 350mW, 2x u.Fl
#R52H
Get a Quote!
MikroTik introduces the R52H wireless 802.11a+b+g miniPCI card for multiband high speed applications, with up to 350mW output power. It works on 2.192-2.539 and 4.920-6.100GHz frequency range and supports Turbo mode for faster transfers. The card performs best when coupled with the MikroTik RouterOS.
R52H is optimized to work with MikroTik Nstreme protocol to reach extra long distances at a great speed. The Nstreme protocol is MikroTik proprietary wireless protocol created to overcome speed and distance limitations of IEEE 802.11 standards and to extend point-to-point and point-to-multi point wireless link performance. The new Nstreme-dual protocol designed to provide real full-duplex communications over wireless with a pair of wireless cards - one for transmitting data and one for receiving.
Card has two U.fl connectors for external antennas
Key Features
Turbo, 802.11a, 802.11b and 802.11g IN ONE
Operates in either 2.4GHz or 5GHz wireless bands
R52H Specifications
Chipset
AR5414
Standards
IEEE802.11a, IEEE802.11b, IEEE802.11g
802.11 Turbo mode support
2.192-2.539MHz
4920-6100Mhz
Output power
25dBm
Format
miniPCI
Dimensions
6.0cm x 4.5 cm
Connectors
2x uFl
Temperature
Operating -20C to +70C
Powering
3.3V +/- 10% DC; 800mA max (600mA typ.)
OS
RouterOS all versions.
Windows via 3rd party drivers (not full frequnecy range)
Wireless Specifications
IEEE 802.11a
24dBm / -90dBm @ 6Mbps
19dBm / -70dBm @ 54Mbps
IEEE 802.11b
25dBm / -92dBm @ 1Mbps
25dBm / -87dBm @ 11Mbps
IEEE 802.11g
25dBm / -90dBm @ 6Mbps
20dBm / -70dBm @ 54Mbps
Download the MikroTik R52H Data Sheet (PDF).