MikroTik R5SHPn

The ultimate long haul device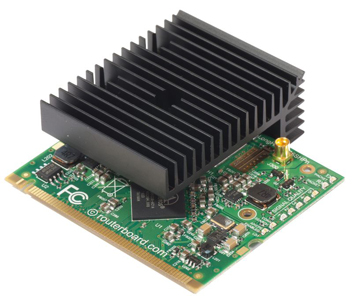 MikroTik Products
MikroTik Interfaces
MikroTik R5SHPn 5Ghz miniPCI 802.11a/n single chain, 800mW, MMCX connector
#R5SHPn
Get a Quote!
The new 5GHz super high power wireless card for long range links and powerful access points. This is the professional choice for reaching the last mile - 800mW transmit power will give you the ability to reach even further than before.
The card features built-in LED indicators for wireless mode, connection status (connected, searching, disabled), TX and RX activity and wireless signal strength - just looking at the card will help with installation and alignment.
The card comes with a preinstalled industrial grade heatsink, one MMCX connector and nine LED indicator lights.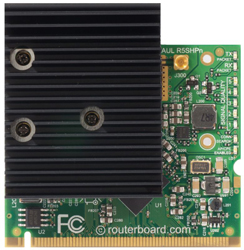 R5SHPn Specifications
Chipset
AR9220
Frequency range
4800-6075Mhz
Standards
802.11a/n
Max output power
800mW
Format
miniPCI
Dimensions
60 x 60 x 19mm (incl. heatsink)
Connectors
1x MMCX (single chain)
Features
9 LED indicators, ESD protection
Temperature
Starting -5C to +65C (23 to 149F)
Operating -30C to +65C (-22 to 149F)
Power consumption
Up to 10W at maximum power
Wireless Specifications
802.11a
RX Sensitivity
TX Power
6Mbit
-93
29dBm
24Mbit
-89
27dBm
36Mbit
-81
27dBm
48Mbit
-79
27dBm
54Mbit
-77
25dBm
802.11n
RX Sensitivity
TX Power
MCS0 20MHz
-93
28dBm
MCS0 40MHz
-89
29dBm
MCS7 20MHz
-74
24dBm
MCS7 40MHz
-71
24dBm
Download the MikroTik R5SHPn Data Sheet (PDF).