MikroTik RouterBOARD 2011UiAS-2HnD

Wireless desktop metal case multifunctional router with five Gigabit Ethernet ports, five Fast Ethernet ports and SFP cage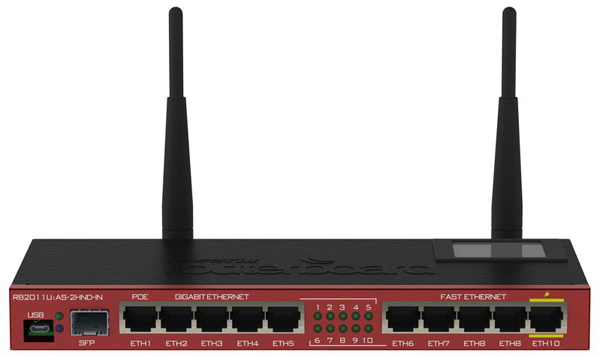 MikroTik Products
MikroTik Wireless for Home and Office
MikroTik RB2011UiAS-2HnD-IN
2.4Ghz 1000mW AP, 5x Ethernet, 5x Gigabit Ethernet, SFP cage, USB, LCD, 600MHz CPU, 128MB RAM
#RB2011UiAS-2HnD-IN
Our Price: $139.00
Click here to jump to more pricing!
Overview:
2.4Ghz 1000mW AP
802.11bgn wireless
5x Ethernet
5x Gigabit Ethernet
SFP cage
USB
Touchscreen LCD panel
600MHz CPU
128MB RAM
The RB2011 is a low cost multi-port device series. Designed for indoor use, and available in many different cases, with a multitude of options.
The RB2011 is powered by RouterOS, a fully featured routing operating system which has been continuously improved for fifteen years. Dynamic routing, hotspot, firewall, MPLS, VPN, advanced quality of service, load balancing and bonding, real-time configuration and monitoring - just a few of the vast number of features supported by RouterOS.
RouterBOARD 2011UAS-2HnD has most features and interfaces from all our Wireless routers. It's powered by the new Atheros 600MHz 74K MIPS network processor, has 128MB RAM, five Gigabit LAN ports, five Fast Ethernet LAN ports and SFP cage (SFP module not included!). Also, it features powerful 1000mW dual chain 2.4Ghz (2192-2732MHz depending on country regulations) 802.11bgn wireless AP, RJ45 serial port, microUSB port and RouterOS L5 license, as well as desktop case with power supply, two 4dBi Omni antennas and LCD panel.
Tested and recommended to use with MikroTik SFP modules: S-85DLC05D, S-31DLC20D and S-35/53LC20D (not included).
RouterBOARD 2011UAS-2HnD-IN comes with desktop enclosure, LCD panel and power supply.
Wall mount kit (product code RBWMK) for network closet is available for purchase as an optional accessory.
Block Diagram: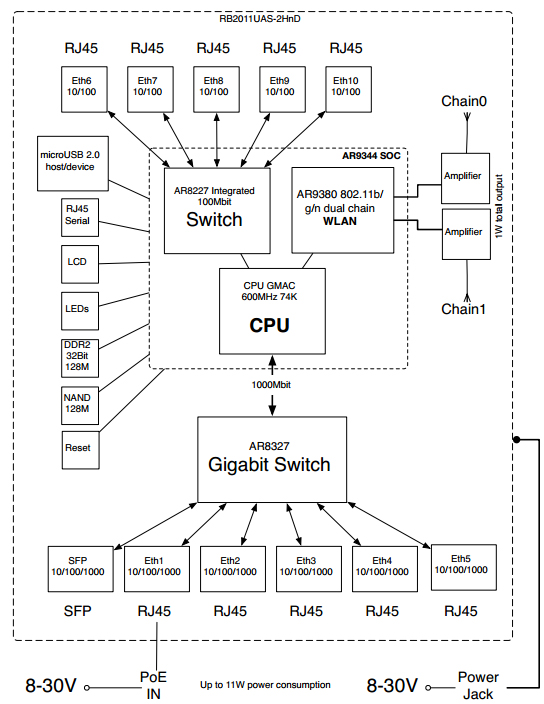 Specifications:
RB2011UiAS-2HnD-IN Specifications
CPU
Atheros AR9344 600MHz
Memory
128MB DDR2 SDRAM onboard memory
Ethernet
Five 10/100 Mbit Fast Ethernet ports with Auto-MDI/X
Five 10/100/1000 Mbit Gigabit Ethernet ports with Auto-MDI/X
Wireless
Built in 2GHz dual chain 802.11b/g/n wireless device
Also includes two 4dBi swivel antennas
Antennas
2x built in 4dBi swivel
Expansion
One fixed Gigabit Ethernet SFP cage (Mini-GBIC; SFP module not included)
Extras
Reset button, Reset jumper, RJ45 serial port, LCD panel, Temperature and Voltage sensors, powered micro-B USB connector, Beeper
Power input
Jack 8-28V DC; PoE: 8-28V DC on Ether1 (Non 802.3af). 11W max consumption
Power output
500mA on Port 10
Dimensions
214 mm x 86 mm
Weight
233g (board with LCD)
Power consumption
11W
Operating temperature
-35C to +65C
Operating System
MikroTik RouterOS, L5 license
Box contains

RB2011
Power supply
USB cable
| 802.11b/g | RX Sensitivity | TX Power | 802.11n | RX Sensitivity | TX Power |
| --- | --- | --- | --- | --- | --- |
| 1Mbit | -96 | 30dBm | MCS0/8 20MHz | -95 | 30dBm |
| 11Mbit | -80 | 28dBm | MCS0/8 40MHz | -92 | 30dBm |
| 6Mbit | -96 | 30dBm | MCS7/15 20MHz | -76 | 25dBm |
| 54Mbit | -80 | 27dBm | MCS7/15 40MHz | -73 | 25dBm |
Performance Test Results:
Performance Test Results
RB2011UiAS-2HnD-IN (600Mhz)
100M & 1G port test
RouterOS
Model
Configuration
64 byte
512 byte
1518 byte
kpps
Mbps
kpps
Mbps
kpps
Mbps
Bridging
none (fast path)
269.6
176.9
232.0
983.7
122.0
1,499.1
Bridging
25 bridge filter rules
87.6
57.5
86.0
364.6
83.6
1,027.3
Routing
none (fast path)
226.9
148.8
210.0
890.4
122.0
1,499.1
Routing
25 simple queues
106.6
69.9
103.9
440.5
100.5
1,234.9
Routing
25 ip filter rules
60.5
39.7
59.6
252.7
56.8
698.0
Pricing and product availability subject to change without notice.
MikroTik Products
MikroTik Wireless for Home and Office
MikroTik RB2011UiAS-2HnD-IN
2.4Ghz 1000mW AP, 5x Ethernet, 5x Gigabit Ethernet, SFP cage, USB, LCD, 600MHz CPU, 128MB RAM
#RB2011UiAS-2HnD-IN
Our Price: $139.00