MikroTik RB951Ui-2HnD

Home wireless SOHO access point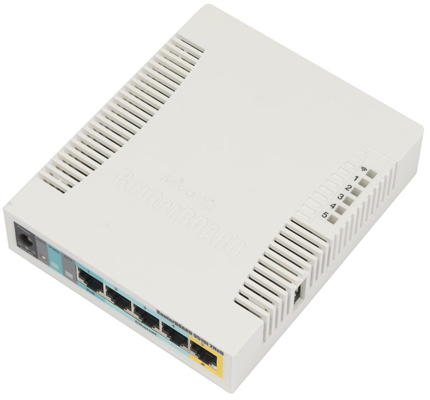 MikroTik Products
MikroTik Wireless for Home and Office
MikroTik RB951Ui-2HnD
2.4GHz 1000mW AP, 5x Ethernet, PoE output, 600MHz CPU, 128MB RAM
#RB951Ui-2HnD
Our Price: $69.00
Click here to jump to more pricing!
Overview:
The RB951Ui-2HnD is a wireless SOHO AP with a new generation Atheros CPU and more processing power. It has five Ethernet ports, one USB 2.0 port and a high power 2.4GHz 1000mW 802.11b/g/n wireless AP with antennas built in.
It has a 600MHz CPU,128MB of RAM and PoE output function for port #5 - it can power other PoE capable devices with the same voltage as applied to the unit. Maximum load on the port is 500mA.
Specifications:
RB951Ui-2HnD Specifications
Features
RB951Ui-2HnD (USB, power injector, USB, 2GHz, 802.11n, dual chain)
CPU
Atheros AR9344 600MHz CPU
Memory
128MB DDR2 onboard memory
Ethernet
Five independent 10/100 Ethernet ports
LEDs
Power, NAND activity, 5 Ethernet LEDs, wireless activity LED
Power in
PoE: 8-30V DC on Ether1 (Non 802.3af). Jack: 8-30V DC
Power out
PoE passive on port 5, same voltage as input.
Dimensions
113 x 138 x 29mm
Weight
Without packaging and PSU: 232g, full weight in package: 420g
Power consumption
Up to 7W
Operating temperature
-20C to +50C
Operating System
MikroTik RouterOS, Level4 license
Box contains

RouterBOARD in a plastic case
24V 0.8A power adapter
Wireless Specifications
Antenna
2x2 MIMO PIF antennas, max gain 2.5dBi
RX sensitivity
802.11g: -96dBm @ 6Mbit/s to -80dBm @ 54Mbit/s
802.11n: -96dBm @ MCS0 to -78dBm @ MCS7
TX power
802.11g: 30dBm @ 6Mbps to 25dBm @ 54 Mbps
802.11n: 30dBm @ MCS0 to 23dBm @ MCS7
Modulations
OFDM: BPSK, QPSK, 16 QAM, 64QAM
DSSS: DBPSK, DQPSK, CCK
Performance Test Results:
Performance Test Results
RB951Ui-2HnD (600Mhz)
Gigabit port test
RouterOS
Model
Configuration
64 byte
512 byte
1518 byte
kpps
Mbps
kpps
Mbps
kpps
Mbps
Bridging
none (fast path)
269.6
176.9
116.5
494.0
40.0
491.5
Bridging
25 bridge filter rules
87.6
57.5
86.0
364.6
40.0
491.5
Routing
none (fast path)
226.9
148.8
116.5
494.0
40.0
491.5
Routing
25 simple queues
106.6
69.9
103.9
440.5
40.0
491.5
Routing
25 ip filter rules
60.5
39.7
59.6
252.7
40.0
491.5
Pricing and product availability subject to change without notice.
MikroTik Products
MikroTik Wireless for Home and Office
MikroTik RB951Ui-2HnD
2.4GHz 1000mW AP, 5x Ethernet, PoE output, 600MHz CPU, 128MB RAM
#RB951Ui-2HnD
Our Price: $69.00