MikroTik S-RJ01

RJ45 SFP 10/100/1000M copper module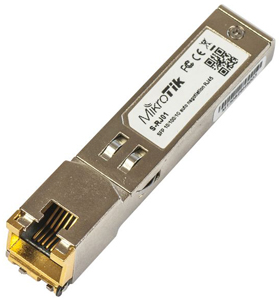 MikroTik Products
MikroTik Interfaces
MikroTik S-RJ01 RJ45 SFP 10/100/1000M copper module
#S-RJ01
Get a Quote!
S-RJ01 is RJ45 SFP 10/100/1000M copper module, compatible with most Gigabit SFP ports available on various networking devices. Shipped with CCR1016-12S-1S+, by popular demand is now also available for purchase separately.
Product Description

Up to 1.25 Gb/s bi-directional data links
100m transmission over unshielded
Compliant with IEEE Std 802.3TM-2002
Compliant with SFP MSA
RoHSCompliance
Access to physical layer IC via 2-wire serial bus
RJ-45 connector
Hot Pluggable SFP footprint
+3.3V single power supply
Extended case temperature range (0°C to +85°C)

Compatible with

Cloud Core Routers
Cloud Router Switches
RB2011 Series
RB260GS Series
S-RJ01 Specifications
Data Rate
1.25Gbps
Distance
100m
Connector
RJ45
Operating Temperature
0 C to +85 C
Download the MikroTik SFP Copper Module Data Sheet (PDF).