MikroTik SEXTANT G

Outdoor point to point solution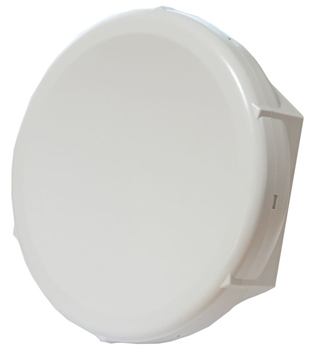 MikroTik Products
MikroTik Wireless Systems
MikroTik SEXTANT G 5HPnD
18dBi integrated CPE/Backbone, Gigabit Ethernet
#RBSEXTANTG5HPnD
Our Price: $109.00
Click here to jump to more pricing!
Overview:
The SEXTANT is a 18dBi 5GHz antenna with a built in RB911G router. It has two polarizations to give you all benefits of 2x2 MIMO in 802.11n.
Inside is the high power RB911 dual chain wireless device, with high performance, high output power, and a Gigabit Ethernet port, to fully utilize the benefit of 802.11n high speed wireless.
Easy to use and quick to deploy, SEXTANT is ideal for point to point links.
Specifications:
SEXTANT G Specifications
CPU
Atheros AR9342 600MHz network processor
Memory
32MB DDR SDRAM onboard memory
Data storage
Onboard NAND memory chip
Ethernet
One 10/100/1000 Mbit with Fast Ethernet with Auto MDI-X
Wireless
5GHz 802.11a/n, 2x2 MIMO, 2x MMCX
LEDs
Power, NAND activity, 5 user LEDs
Power options
Power over Ethernet: 10..28V DC (except power over datalines). No power jack. Up to 11W consumption.
Dimensions
Ø250mm, height 90mm
Weight
830g
Power consumption
11W
Operating temperature
-30C to +70C
Operating System
MikroTik RouterOS, Level3 license
Box contains

SEXTANTG5PHnD
Mounting kit
PoE injector
Power adapter
Wireless Specifications
TX/RX at MCS0
30dBm / -96dBm
TX/RX at MCS7
24dBm / -78dBm
TX/RX at 6Mbit
30dBm / -96dBm
TX/RX at 54Mbit
27dBm / -80dBm
Frequency range
4900-5920MHz
Included parts
| | |
| --- | --- |
| Metal rings (two) | PoE injector |
Performance Test Results:
Performance Test Results
RBSEXTANTG5HPnD (600Mhz)
Gigabit port test
RouterOS
Model
Configuration
64 byte
512 byte
1518 byte
kpps
Mbps
kpps
Mbps
kpps
Mbps
Bridging
none (fast path)
269.6
176.9
232.0
983.7
81.0
995.3
Bridging
25 bridge filter rules
87.6
57.5
86.0
364.6
81.0
995.3
Routing
none (fast path)
226.9
148.8
210.0
890.4
81.0
995.3
Routing
25 simple queues
106.6
69.9
103.9
440.5
81.0
995.3
Routing
25 ip filter rules
60.5
39.7
59.6
252.7
56.8
698.0
Antenna Patterns:
SEXTANT G Antenna Patterns
Frequencies
5.17 - 5.825 GHz
Gain
18dBi
VSWR
1.6:1
3 dB Beam-Width, H-Plane
16.8 °
3 dB Beam-Width, E-Plane, typ.
22.8 °
Polarization
Linear, Vertical and Horizontal
Port to Port Isolation
- 35 dB
Pricing and product availability subject to change without notice.
MikroTik Products
MikroTik Wireless Systems
MikroTik SEXTANT G 5HPnD
18dBi integrated CPE/Backbone, Gigabit Ethernet
#RBSEXTANTG5HPnD
Our Price: $109.00