MikroTik SXT Lite2

High transmit power 2GHz outdoor wireless device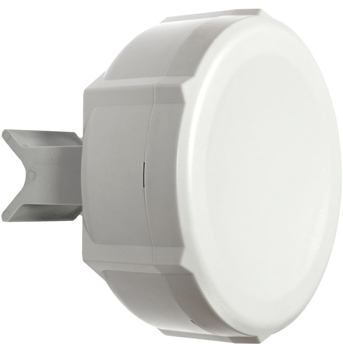 MikroTik Products
MikroTik Wireless Systems
MikroTik SXT Lite2
10dbi integrated CPE/Backbone, 2Ghz dual chain, 600Mhz CPU
#RBSXT2nDr2
Our Price: $49.00
Click here to jump to more pricing!
Overview:
Our best price/performance 2.4Ghz CPE. The SXT Lite2 (product code RBSXT2nDr2), 2Ghz 10dBi integrated antenna with 600MHz CPU, 64MB RAM and RouterOS L3 installed.
SXT Lite2 is a low cost, high transmit power 2.4GHz (2312 -2732MHz depending on country regulations) outdoor wireless device. It can be used for point to point links or as a CPE for point to multipoint installations.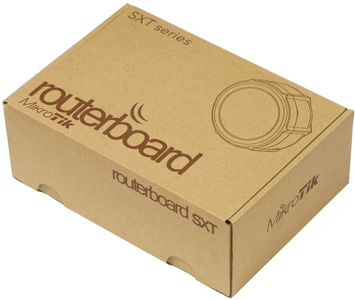 Specifications:
SXT Lite2 Specifications
Features
2nDr2 (2GHz, 802.11n, Dual Chain, hardware revision two)
CPU
Atheros AR9344 600MHz CPU
Memory
64MB DDR2 SDRAM onboard memory
Ethernet
One 10/100 Ethernet port, L2MTU frame size up to 4076
Wireless cards
Onboard dual chain 2GHz 802.11b/g/n Atheros wireless module;
10kV ESD protection on each RF port
Extras
Reset switch, buzzer
LEDs
Power LED, Ethernet LED, 5 wireless signal LED
Power options
Power over Ethernet: 8-30V DC
Packaged with 24V DC 0.38A power adapter and passive PoE injector
Dimensions
140 x 140 x 56mm
Weight
Without packaging, adapters and cables: 258g, total package: 616g
Power consumption
Up to 8W
Operating temperature
-30C to +80C
Operating System
MikroTik RouterOS, Level3 license
Certifications
FCC, CE, ROHS
Box contains

SXT Lite2 unit
PoE injector
24V power adapter
Mounting bracket
Metallic mounting loop
Wireless Specifications
Antenna
Dual polarization 2GHz antenna, 10dBi, -18 dB port to port isolation,
Beam-Width: H-Plane, E-Plane typ. 60°
RX sensitivity
802.11b/g: -95 dBm @ 11Mbps to -80 dBm @ 54 Mbps
802.11n: -95 dBm @ MCS0 20MHz to -77 dBm @ MCS7 40MHz
TX power
802.11b/g: 27dBm @ 11Mbps to 24Bm @ 54 Mbps
802.11n: 27dBm @ MCS0/8 to 23dBm @ MCS7/15
Modulations
OFDM: BPSK, QPSK, 16 QAM, 64QAM
DSSS: DBPSK, DQPSK, CCK
Included parts
| | |
| --- | --- |
| Metal ring (one) | PoE injector |
Performance Test Results:
Performance Test Results
RBSXT2nDr2 (600Mhz)
100M port test
RouterOS
Model
Configuration
64 byte
512 byte
1518 byte
kpps
Mbps
kpps
Mbps
kpps
Mbps
Bridging
none (fast path)
148.0
97.1
23.5
99.6
8.1
99.5
Bridging
25 bridge filter rules
87.6
57.5
23.5
99.6
8.1
99.5
Routing
none (fast path)
148.0
97.1
23.5
99.6
8.1
99.5
Routing
25 simple queues
106.6
69.9
23.5
99.6
8.1
99.5
Routing
25 ip filter rules
60.5
39.7
23.5
99.6
8.1
99.5
Pricing and product availability subject to change without notice.
MikroTik Products
MikroTik Wireless Systems
MikroTik SXT Lite2
10dbi integrated CPE/Backbone, 2Ghz dual chain, 600Mhz CPU
#RBSXT2nDr2
Our Price: $49.00