MikroTik RB14e

4x miniPCI-e to PCI-e adapter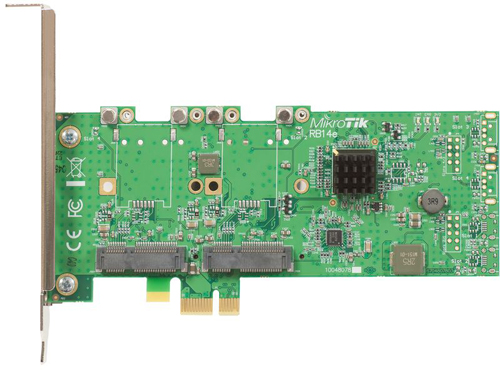 MikroTik Products
MikroTik Interfaces
MikroTik RB14e 4x miniPCI-e to PCI-e adapter, Long and short bracket
#RB14e
Get a Quote!
RB14e is an adapter card for using four miniPCIe wireless cards in a PC with a PCIe slot. This gives you the ability to use our new R11e wireless interfaces in conventional PC computers.
Use this new adapter to expand your connectivity and upgrade your device to use the latest miniPCIe interface cards.
Comes with both low and regular profile brackets. Brackets include holes for mounting SMA connectors, or for using as cable exit holes.
Model:
RB14e
RB14eU
Form factor
PCIe x1
PCIe x1
Number of miniPCIe slots
4
4
USB to PC connectors
-
6
Intended use
Wireless cards
Wireless cards and 3G cards
Bracket includes
Both normal, and low profile. Holes for cables provided (6/8)
SIM slot
-
4
Download the MikroTik RB14e Data Sheet (PDF).